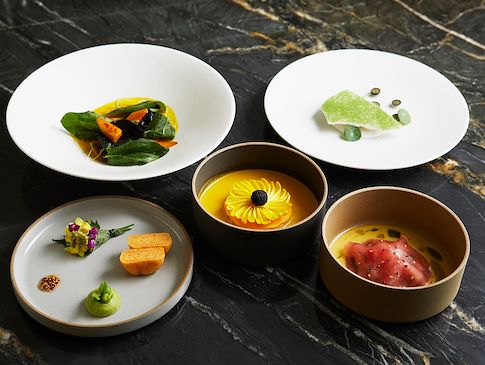 EDITION is luxury lifestyle brand and wellness and well-being are part of our DNA. It is important to feel that we are doing good for ourselves for mind, body and environment. The idea behind the Vegan Table takes you to a journey for all the above.
Since we opened, we have always focused a lot on healthy, vegetarian and vegan options for our menus and Vegan Table is a natural evolution of the DNA of The Blue Room and the EDITION brand.
5 course menus boast innovative dishes such as Compressed Watermelon, Fermented Carrot and Citrus-Tonic Sorbet, using nourishing vegetables in season exquisitely crafted with salubrious recipe to a beautiful presentation.
The quality establishment also offers an alcoholic and zero proof beverages pairing options including bespoke cocktails and natural wines which perfectly complements the elegant and rich taste of vegan menus.
5 Course at JPY 12,500
Alcoholic beverages pairing additional JPY 12,500
Zero proof beverages pairing additional JPY 6,500
Price includes service charge and consumption tax.
Terms and Conditions:
• One-week advanced reservation is required by phone or email at +81 3 5422 1600 / [email protected]
• Only available in Private Dining Room for group of minimum six to maximum ten guests
• Cancellation fee will be charged 100% from three days before
• Credit card information is required upon reservation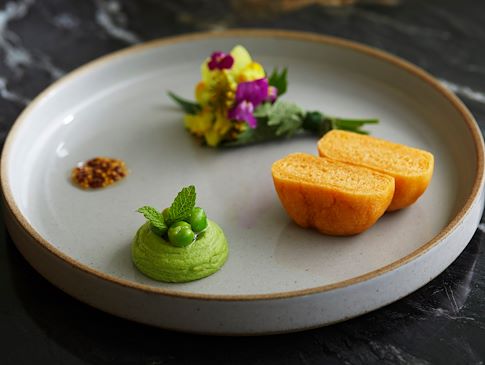 GREEN PEAS HUMMUS
Potato Bread & Mustard Seeds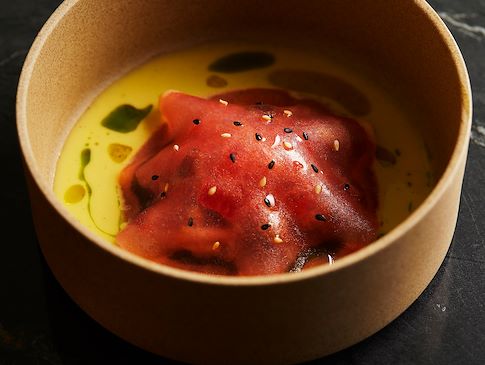 COMPRESSED WATERMELON
Tomato, Passionfruit, Basil Oil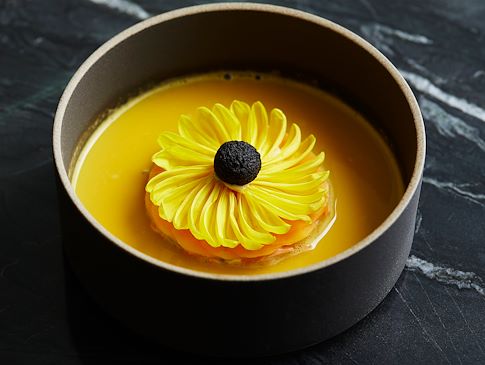 FERMENTED CARROT
Pickled Raisins, Turmeric & Ginger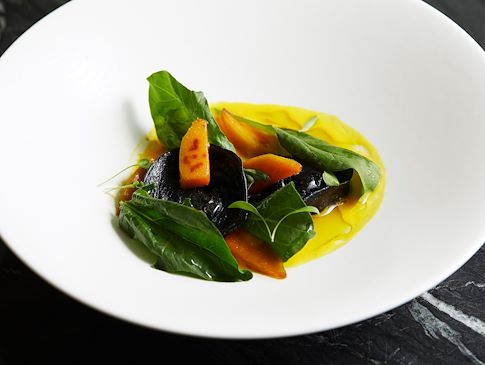 ROASTED PUMPKIN
Activated Charcoal, Water Spinach, Grape Kyoho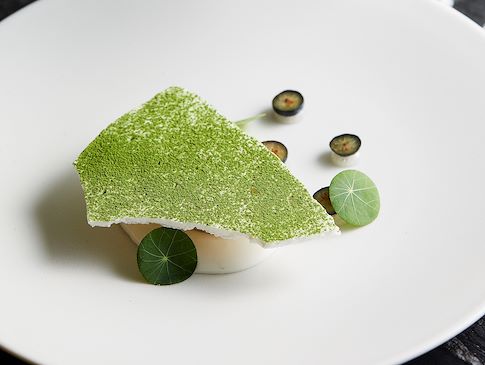 CITRUS-TONIC SORBET
Juniper Berry, Meringue