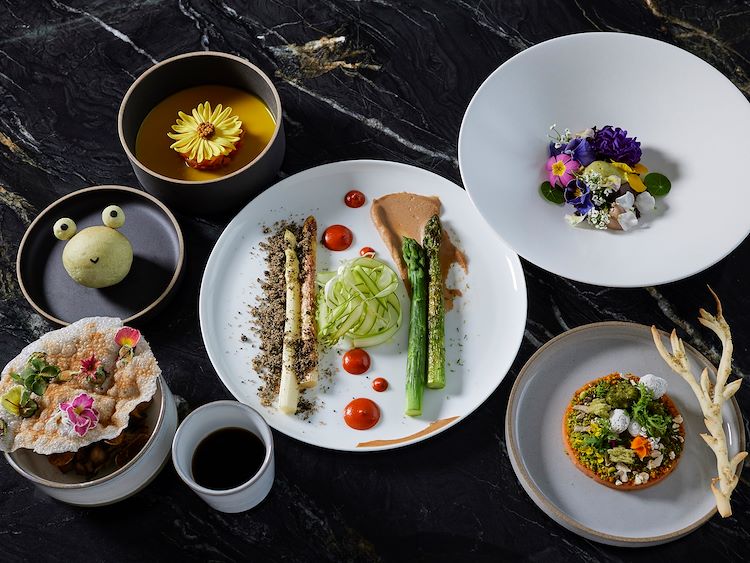 "THE BLUE GOES GREEN" ON EARTH DAY
The Blue Room celebrates Earth Day with a specially curated 5-course dinner, offered from April 18th to 22nd, limited to 10 meals per day. Relish in this plant-based feast for your eyes and appetite, using locally-grown fresh ingredients, that is each served to delicately tell a story and to honor our beautiful planet.
Earth Day Special 5-course Dinner
'Earth' - Paprika, Potatoes, Chickpea, Cashew, Pistachio, Olive
The first dish expresses blessings for plants and flowers sprouting on Earth. On the land made of paprika hummus are vegan cheese, olive, and tapioca imitating rocks and moss, as well as fried, dried and crushed pumpkin seeds, kale, pistachio, and root vegetables to resemble the earth land. On the side is grissini, shaped in a form of a tree branch. 'Earth' is where it all begins - continuously building a beautiful sustainable planet earth for the future.

'Spring' - Fermented Carrot, Bee Pollen, Chrysanthemum, Raisin, Kale Bread
Spring is delineated with a delicate flower floating on the quiet water, and a playful frog living around it. The flower is fragranced with bee pollen used in the center of the petals. Beneath the flower is carrot râpées - fermented carrots and skin with natural microorganisms for over 2 weeks and accented with raisin pickles. Dip the kale frog bread into the island carrot sauce made with lemongrass, ginger, and coriander. Enjoy 'Spring' with the eternal hope for biodiversity and living in harmony with nature.
'Forest' - Maitake Mushroom, Shimeji Mushroom, Bouillon Champignon, Red Sorrel, Black Garlic, Cepe Powder
Beautiful flowers bloom from the land cultivated by mushrooms. Raw mushroom slices and cepe powder are cooked with sautéed Maitake mushrooms and Shimeji mushrooms to maximize the flavor and aroma of those. On top of the crispy rice paper, representing mist, are black garlic puree, sprouts, and edible flowers. Taste each individually, try the mushrooms together on the rice paper, and sprinkle with bouillon champignon to enjoy the rich texture, taste and aroma until the last drop. 'Forest' conveys the significance of conserving natural forests, where mushrooms play a key role in decomposing fallen leaves and returning them to soil.
'L...S' - Green and White Asparagus, Walnuts, Hazelnuts, Cane Sugar, Harissa, Olive
The light and shadow of the sun is capable of creating many different expressions. What differentiates green and white asparagus? It's light and shadow. The same vegetables turn out completely different depending on whether it was grown under light or dark during the cultivation process. Green and white asparagus are cooked and served in a variety of ways to expand the range of its flavor - from fresh, then baked to bring out the sweetness, and boiled to highlight the aroma. Enjoy each and a mix of sweet and nutty paste, spicy harissa, and dry olive and nuts powder, blended to imitate the soil. 'Light and Shadow' is served with appreciation and sincere respect for the sun, for creating life on earth.

'Flower' - Chocolate Ganache, Pistachio Ice Cream, Crumble, Flower
Crispy crumble chocolate and soymilk chocolate ganache resembling the land, green pistachio ice cream as a reminiscent of green leaves, and chocolate ganache whip that melts in your mouth as soil - all decorated with colorful fragrance flowers to present a perfect sweet ending to an array of aesthetic dishes. To a better tomorrow for the ever-generous mother earth, brimful of lively, brilliant flowers.
JPY 12,500 per person
*Prices are inclusive of service charge and government regulated consumption tax.
Dates: April 18 - 22, 2022
For any inquiries or reservations, please contact via phone or email at
+81 3 5422 1600 or [email protected]
Reservations are limited to 10 meals per day, please make a reservation early in advance.